A floating city of wonder, history and possibly one of Italy's most picturesque cities. With its winding canals, striking architecture, and beautiful bridges, Venice is a popular destination for travel.
 Serviced by some of the world's best cruise lines, many take in this city before and/or after a cruise.  Indulge in rich Italian History, World renown landmarks like shops and restaurants make Venice a perfect destination for Honeymoons and experienced travelers alike.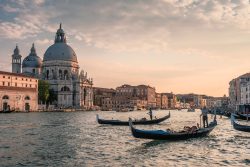 Discover your Venice.
Venice, the capital of northern Italy's Veneto region, built on a lagoon over more than 100 small islands in the Adriatic Sea. It has no cars with its no roads, just canals with gondolas serving as taxis an established mean to get about.  Around the city you will notice many sites worth seeing – including the Grand Canal palaces of Renaissance and Gothic eras.  Piazza San Marco central square, you will find St. Mark's Basilica, with the Campanile bell tower offering casting views of the city.
Luxury Hotels in Venice, Italy
JW Marriot, St. Regis, Hotel Excelsior and many more popular luxury hotels in the heart of Venice are ready for your stay.
Popular group tours in Venice, Italy.
There are so many things to see in Venice a guided group tour will help you make the most of your time, skip lines and get access to restricted areas!
Local events in Venice, Italy.
With games/shows each week is full of roaring crowds events!  Find the events to make your trip.
Airports near Venice, Italy.
Venice Marco Polo Airport

Treviso Airport
Trieste Airport
The main currency in Italy is the Euro(€).
Venice has a mid-latitude, four season humid subtropical climate (Cfa), with cool, damp winters and warm, humid summers.
Italy works with a domestic electricity supply of 230 volts.
The language spoken in Italy is Italian.
The time zone in Italy is Currently Central European Time (CET), UTC +1
Documents required to visit Italy
Canadian Citizens please click here
Non-Canadian citizens please contact the consulate or embassy for information.